Learn about what's included in the latest OneVue release and recent announcements.
Primex is exploring ways to improve our customer support experience. And we're excited to announce a new OneVue support feature - allowing you to get answers quickly and chat live with our support team.
When you log in to OneVue, you'll notice a new green Support button. When selected, ask a question - this new feature searches our knowledge base for an answer.
If the suggested articles don't provide you with the right answer, select Get in touch to chat with our support team. Live chat is available from 7:00 AM to 7:00 PM CT. If our support team is not available, you can leave us a message.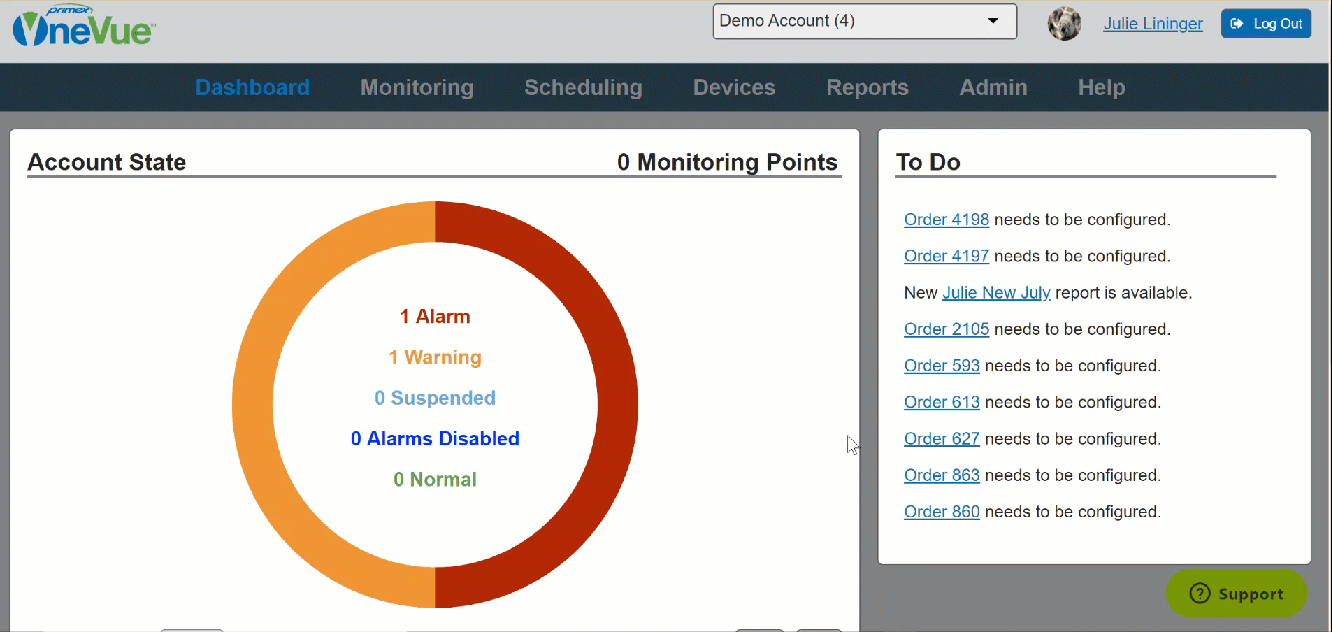 If you do use this new Support feature, please let us know your thoughts. Our team will be tracking usage and results behind the scenes. If we sense it's not providing the customer experience we expect, it may be removed to make improvements.
Our existing support resources have not changed.
Our knowledge base is available from the Help menu located in OneVue. The search feature works differently than the new Support option.

You're always welcome to call us for the same support we've always offered. Our support team is available from 7:00 AM to 7:00 PM CT and can be reached at 262-729-4860.
This new report provides visibility for those assigned to the Business Unit Admin role to view activity specific to their Business Unit. Due to the OneVue Audit report is restricted to Account Admins, we needed to provide a similar report for the Business Unit Admins.
The report provides details of setting changes and user activity specific to a Business Unit. This information will be helpful when you need to know when and who made a setting change. It also provides details of when each user last logged into OneVue.
Prior to this release, a Zone represented the bell schedules assigned to your Bell Controller Relays. In an effort to enhance your OneVue experience, we have renamed Zones to Bell/Timer Schedules.
Now from the Scheduling menu, you will select Bell/Timer Schedules to manage and view your school bell schedules. In addition, there are a few other places that have been updated to Bell/Timer Schedules.

In early 2020, we released the third-generation of our 72MHz Transmitters. Unique to these Transmitters they can be configured for use with OneVue or as a standalone configuration.
For those that use standalone configuration or when a network is not available, from the OneVue Device Configurator (ODC) app you can now check a Transmitter's status. This new feature is helpful when you need to know why a Transmitter is in a Caution or Error state.
Published September 21, 2020 by Katie McMillan, Director of Healthcare Solutions
Effective October 28, 2020, Primex will no longer be able to support the use of Microsoft's Internet Explorer 11 with OneVue. This means no versions of Internet Explorer are supported.
We regret any inconvenience this causes, and invite you to send an email if it is a major issue for you.
Due to security concerns and the value we place on user experience, we need to prevent the use of any Internet Explorer version. All users should log into OneVue from a supported web browser listed below, not Internet Explorer. If a user tries to log in from Internet Explorer after October 15, they will be directed to an unsupported browser page and prevented from logging in.
You can log in to OneVue from any of the below web browsers. Be sure your browser is updated to the most current version.
Security changes may affect older versions of several applications – please ensure you're using the most current version of whatever browser you have chosen.
There will not be any changes to Primex clocks, sensors, or other devices. Please note that if your institution removes support for TLS 1.0 or 1.1 communication, this will affect certain clocks or sensors. If all your clocks or sensors have gone unresponsive, it is likely due to a network change made by your IT department. Please consult with your IT department to ask about TLS changes.