The OneVue interface is intuitive and user friendly.
Top navigation bar: drop-down menus to access the OneVue features.

Your access to the menu options is dependent on the Role and Device Classes assigned to your User Profile.

List Views: customize the data displayed in each list view and set a custom view to be shared with all users.

Primary and Advanced Settings: when viewing the profile of a system component, by default only the primary settings are displayed. Advanced options provide access to additional settings.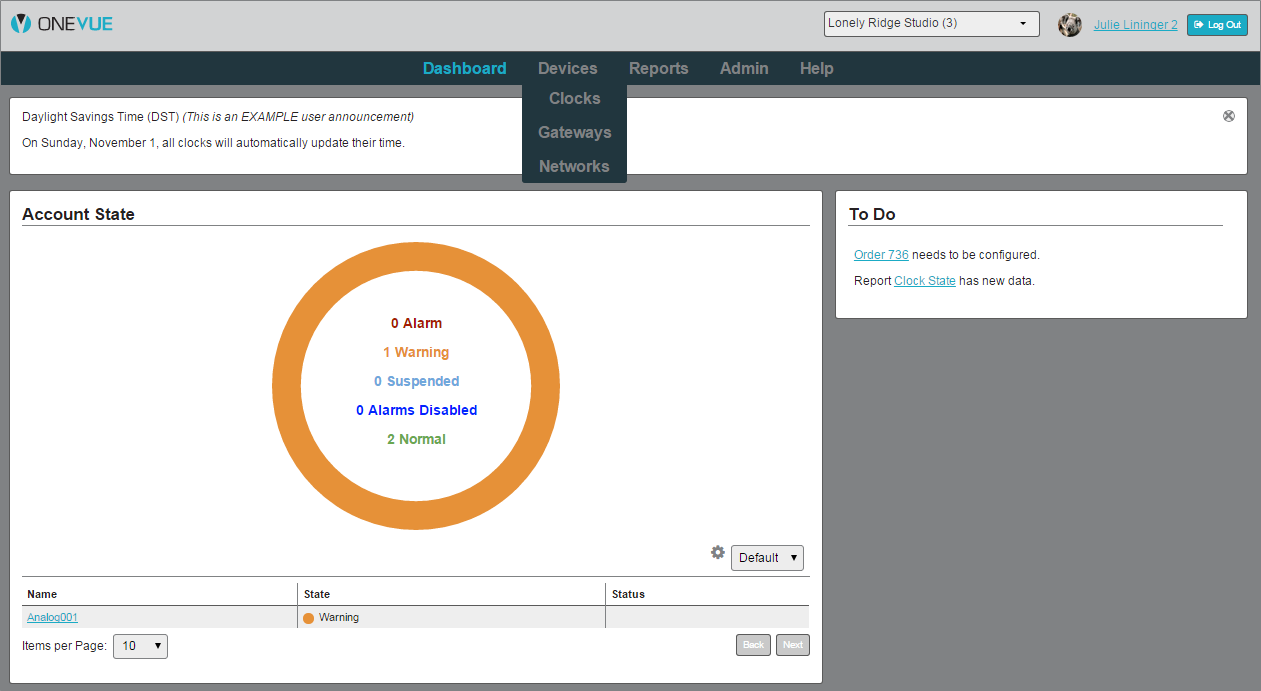 The menu options displayed are dependent upon the Roles and Device Classes assigned to your User Profile.
Dashboard: A snapshot of the current state of all devices, a list of To Do items, and active User Announcements.

Devices: View and manage Primex devices and the networks assigned to devices. A network device connects to its assigned network to send data to and download settings from OneVue.

Reports: View generated reports, generate a new report, and manage Report Profiles.

Admin: Manage account settings, Users, Business Units, Locations, and User Announcements.

Your User Profile: Manage your contact information, password, and alert preferences.

Help: View self-help support topics, use the search feature to easily find what you are looking for and also print topics, download PDF manuals, and configuration software.
From the gear icon, located in the upper right corner of each list view, you can create your own custom views and optionally share a view with all account users. To learn more, Customize list views and download view data.

You can set the number of items to display in a view. If a page has more items than what is displayed, select the back and next buttons to navigate through the additional pages.