Listed below are the components and specifications of the Primex Levo Digital Clock and Timers.
Key-hole mount (2); secure mount

Power supply

Power cord with 2-prong plug

Power cord strain relief assembly

Setting panel; configure clock settings and location of Reset button

Code Blue Timer: 4 pin connector 30 in. (76.2 cm) length; RJ 11 jack for connection from the timer to the timer control switch
The figure below illustrates the back of a Levo Series Digital Clock and Timer and its components.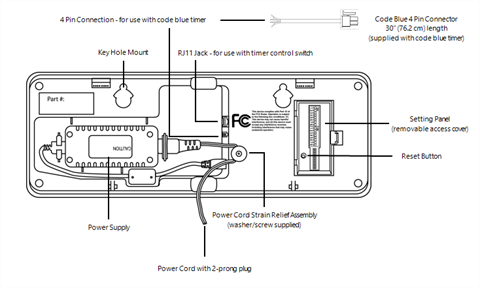 Parameter

Specification

LED Display

Highly visible 7-segment LED digits

2.5" model: 2.5" (6.4 cm) diagonal (hours and minutes), 1.4" (3.6 cm) diagonal (seconds)

4" model: 4.6" (11.7 cm) diagonal (hours and minutes), 2.5" (6.4 cm) diagonal (seconds)

LED Display Dimmer

100%, 75%, 50%, 25%

Time Display

12- or 24-hour time

PM indicator light

Alternating time and date display option

Hour Offset

+/- 24 hours

Receiver Sensitivity (Decode)

< -110dBm

Power Supply

100-240 VAC/ 50–60 cycle. Supplied with 10 ft (3.0 m) cord with plug and UL/cUL listed power supply

24VAC model: 18-28VAC/ 50–60 cycle. Supplied with a 10 in. (25 cm) cord with pigtail and power supply

Power Outage Memory Backup

Enclosure

ABS plastic

Junction box: UL listed (UL 50E 1st Ed; listing number E469550)

Storage Temperature Range

-20° to 185° F (-29° to 85° C)

Operating Temperature Range

32° to 194° F (0° to 35° C)

Code Blue Timer Input

5-120 VAC/ DC /DC or dry contact input

Code Blue and Elapsed Timer Audible Beep Option

Frequency 3KHz +/-0.5KHz

Certification

FCC/IC/CE marked