Bluetooth low energy technology used by Primex OneVue Sync Bluetooth devices employ Adaptive Frequency Hopping (AFH), ensuring robust and reliable connections. AFH minimizes interference to other ISM band radio technologies or devices. The power output of a Primex device equipped with Bluetooth low energy technology is +4dBm (2.5mW). Based on wireless coexistence safeguards inherent in the Bluetooth low energy technology standard, the minimal RF on-time and the low output power of the OneVue Sync Bluetooth devices, there should be no concern with these devices interfering with other RF based equipment within a facility.
Bluetooth low energy uses the 2.4 GHz ISM band extending from 2402 MHz to 2480MHz, channels 0-39. Primex's Sync Bluetooth devices only use channels 37, 38 and 39, which are mainly used for sending advertisement packets. Most of the data traffic within the Primex OneVue Sync Bluetooth system involves advertising between clocks, with some communications once the self-healing Sync Bluetooth mesh network path has been established. In addition, Bluetooth low energy technology employs adaptive frequency hopping (AFH) techniques to reduce interference with other devices.
The Bluetooth low energy technology radio within the OneVue Sync Bluetooth Clocks have a maximum output power of +4 dBm (2.5 mW). After clock deployment, the Bluetooth low energy technology radio is on for maximum of 12 minutes per 24 hour period, the rest of the time the Bluetooth radio is off with no RF energy being transmitted by the Sync Bluetooth clocks.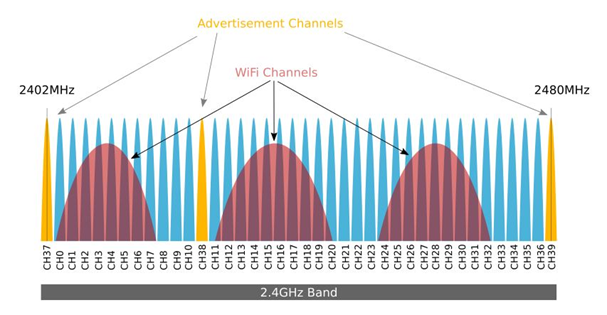 About Bluetooth® wireless technology
Bluetooth technology is the global wireless standard for simple, secure connectivity. Propelled by a global community of nearly 30,000 companies, Bluetooth serves to unify, harmonize, and drive innovation in the vast range of connected devices all around us. Through collective creation and shared technical standards, Bluetooth simplifies, secures and enriches the technology experience of users worldwide. Find out more at www.bluetooth.com.