This topic provides the installation instructions. It's important to complete the installation in the order defined in the following steps.
The illustration below represents a typical system setup for a 14000 Transmitter with an external antenna.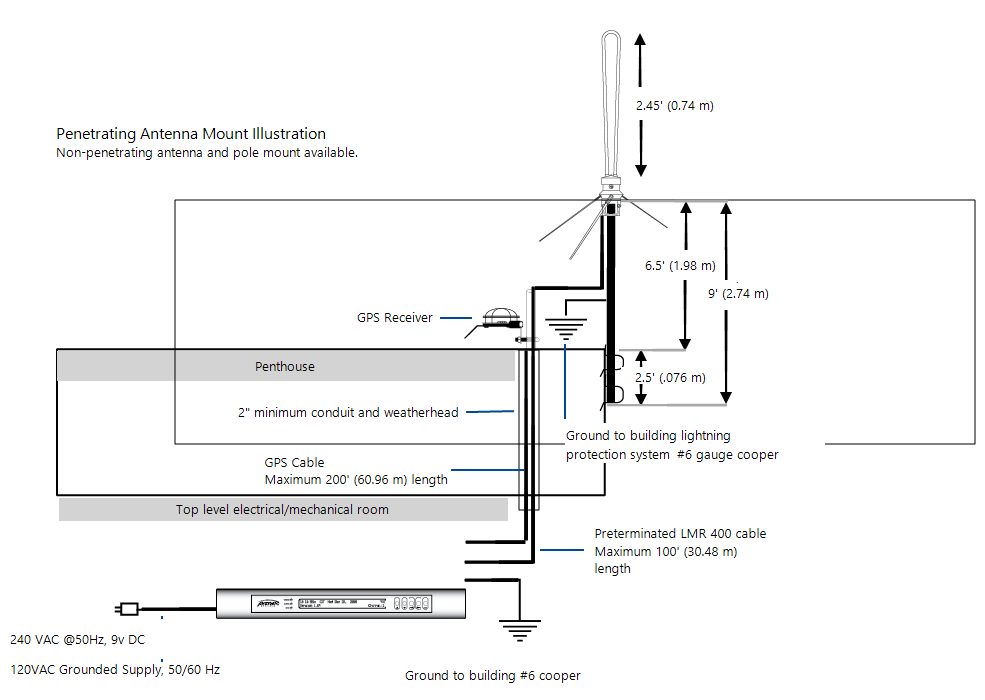 Review the Installation Location Guidelines - Transmitter with External Antenna and identify installation location of the Transmitter and system components.

Inspect system components to verify packaging includes all supplied parts for each system component and verify no damage has occurred during shipping.

Do not install or attempt to set the system wireless clocks or devices until the Transmitter and its components are installed and configured, the Transmitter is powered, its time source is configured and time has been received, and the Transmitter is fully operational.
When planning the system installation of a Transmitter with an external antenna, Primex recommends taking into consideration the below guidelines. Location is extremely important to ensure the best operation of your system.
Note
Prior to installation and to assure optimum performance of the system, it's recommended a site survey is completed by Primex. The site survey includes an analysis and recommendation of the installation location of the system components and ground plan omnidirectional antenna.
Attach and fasten the antenna channel side base to the top of the 1 inch rigid galvanized conduit section.

Use a 1/2 inch wrench to tighten the nuts on both of the U-bolts, both evenly and securely. To ensure it's secure, tighten the second nut to the first nut.
There are three available mounting methods. Installation is dependent upon the mounting kit supplied with the system.
Note
Mounting the antenna mast may require two people.
A GPS Receiver is required when a Transmitter is set to use GPS as its time source.
The switch preferences are located on the back side of the 14000 Series Transmitter. The switches set the Time Zone, channel number, 12- or 24-hour display, and the observance of Daylight Saving Time. The Transmitter continually checks the position of the switches.