A Digital Clock/Timer can be wall mounted at a 4° or 18° angle using the supplied tilt bracket.
Note
Hardwired (pigtail) install: AC-powered clocks are supplied with a power cord with a two-prong plug. The two-prong plug may be removed for a hardwired (pigtail) installation. Hardwired installation requires a 120V~ power line in a junction box installed by a licensed electrician. Leave a minimum of 6 in. (15 cm) of cord inside the junction box. The tilt bracket has a center pass-through hole for the 120V~ pigtail. If a junction box is present, the tilt bracket has mounting holes spaced to allow direct attachment of the tilt bracket to the junction box cover plate screw holes.
Mount the tilt bracket directly to the wall with the four #10 screws and anchors (supplied). To determine the spacing of the screws, refer to the mounting dimensions.

Latch the clock onto the tilt bracket. The top latch position determines the tilt degree.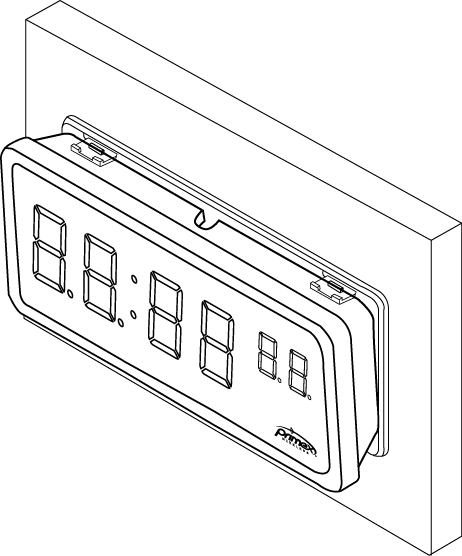 2.5" model: From the top of the bracket using a screwdriver press each hook down to release the clock and pull out to unsnap the bottom hinges.

4" model: From the top of the bracket, insert a thin screwdriver into each notch and gently move the screwdriver sideways to unlock the clock, pull the clock forward and up to unsnap, and then lift out.