OneVue provides the ability to route voice alert notifications to an IVR system. You will commonly use this feature when your organization's phone system requires that callers enter an extension number or select an option to reach a specific person, department, or central line.
IVR, short for Interactive Voice Response, is a phone system technology that allows a caller to choose options from a menu. Generally an IVR presents a message and then provides a list of menu options to the caller. The caller then makes selections by touching a phone key or by speaking into the phone.
Your organization's IVR system may have a simple or complex menu to reach intended recipients. You will need to work with your organization's IVR administrator to determine what's needed to configure the OneVue Dialer Suffix setting.
Note
OneVue text and voice alerts are sent from phone number 608-709-7043.
Routing voice alerts to an IVR system is configured through the Dialer Suffix setting in a User Profile or Business Unit. Configuration is specific to your organization's IVR system menu options. The IVR menu will commonly require the entry of a number, or pattern of numbers, pause, and a number in order to connect to the appropriate person, department, or central line.
When configured for a user, commonly the user does not have a direct line and the IVR requires a caller to enter a phone extension. The same may apply to a Business Unit, the menu options presented by the IVR are commonly by department.
Allows up to a maximum of 12 numbers/characters. The specific numbers and characters allowed are listed below.
Numbers: 0 through 9

Comma: ,

Period: .

Number sign/pound key: #

Asterisk/star: *

w (letter): when w is included, there is a 0.5 second pause.
Example Business Unit: Pharmacy department (Business Unit) requires all voice alert notifications are sent to the Pharmacy's on-call central line.
From the Alert Rule, the Alert Go To setting must include the Pharmacy Business Unit.
Main hospital phone number is (314) 555-1212.
IVR Menu: Press 2 for the Pharmacy Department, the next menu option is press 3 to reach our on-call central line.
Example of the Pharmacy Business Unit settings below.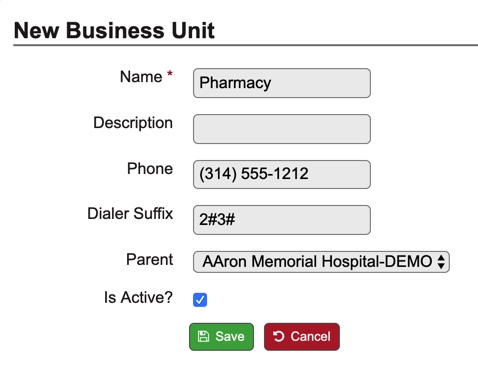 Example User: Joe Smith, Facility Manager, is required to receive voice alerts to his work phone number.
Joe's Alert Preferences must be set to voice.
Main phone number: (314) 555-1212
Joe's extension: 2134IVR Menu: Press 1 to reach a staff member, the next menu option is enter 4 digit phone extension.
Example of Joe's User Profile settings below.