A Bell Controller device has a removable terminal block on the bottom of the device. The terminal block has two independent relay contact input connections and two dry contact input connections.
Relay connections support for either normally open (NO) or closed (NC) operation. A relay triggers the bells to ring at the schedules set in its assigned bell schedule.

Dry contact closure inputs can be connected to a standalone switch or button to activate a bell manually, commonly referred to as an impromptu bell. An impromptu bell is a bell event that is not scheduled in OneVue.
Terminals accept wire gauge from 16-26 AWG.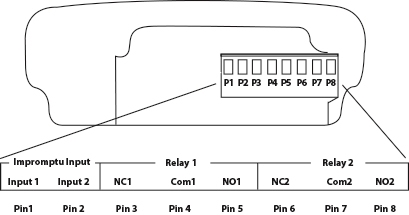 P1: Input 1 for impromptu bell (switch or button input), Dry contact closure input pair sounds bell(s) on both relays immediately when activated.
P2: Input 2 for impromptu bell (switch or button input)
P3: Relay 1 Normally Closed Contact Input
P4: Relay 1 Common Contact Input
P5: Relay 1 Normally Open Contact Input
P6: Relay 2 Normally Closed Contact Input
P7: Relay 2 Common Contact Input
P8: Relay 2 Normally Open Contact Input