There are three available options to manage a Transmitter settings. Commonly, the ODC app is used when installing a new system and once the system is installed, a Transmitter's settings are remotely managed from OneVue.
The ODC app is used to configure OneVue Sync Transmitters and Notify InfoBoards. For a new system deployment or when adding or replacing a device, each device is required to be configured onsite with the ODC app. The ODC app is available for both iOs and Android mobile devices.
Commonly use of the ODC app is used during installation and also post-install when Transmitter setting updates are required to be made to its FCC Call Sign and channel and transmit schedule. It's recommended that these settings are only changed when directed by Primex Technical Support.
Name

Uniquely identifies the device and commonly set to its installation location. If a name is not provided, set to the device's 12-character Device ID (MAC address).

Network

Its assigned wired Ethernet network. If a wired Non-DHCP network, its static IPv4 address can be updated.

Call Sign

Transmitter is registered and licensed to operate over the 72MHz radio frequency with the Federal Authority having jurisdiction (U.S.: FCC/ Canada: ISED). Primex files the license application with the Federal Authority having jurisdiction on behalf of the system owner. The FCC/ISED license includes the Call Sign and the effective and expiration date. Once issued the system owner is responsible for maintaining the license.

If configuration is completed with a temporary Call Sign, it's required to be updated to the licensed Call Sign. The Call Sign can be updated directly from the app. Optionally, contact Primex to request a Transmitter Call Sign update.

Time Zone

Time Zone transmitted (broadcasted) by the main Transmitter, which is then received by system devices and Repeater Transmitters.

RF Channel (main Transmitter)

Set to the Channel Number the Transmitter transmits its time signal and events on, which is then received by the system devices.

Receive Channel (Repeater Transmitter)

Repeater Transmitter searches for and receives time and event signals from this channel and re-transmits the signal received, which is then received by system devices within its wireless RF range.

Required to be set to the main Transmitter's RF Channel Number.

Repeater Transmit Channel (Repeater Transmitter)

Set to a Channel Number the Repeater Transmitter is to transmit (broadcast) its time signal on. To avoid interference, set to a number that is less than or greater than 2 channels from another Transmitter.

Preset 1 through 5 (for use with the OneVue Notify (InfoBoards/MiniBoards) critical notification solution)

With Daylight Saving Time

By default, enabled and the time zone's DST rules are observed. When de-selected, it overrides the time zone's DST rules and uses standard time. This option is available to allow a manual override to not observe DST time.

Transmit Continuously

Number of hours the Transmitter continuously transmits a time signal after a power up (on). During a system install, this allows other system devices to receive a time signal at the time of installation.

Normal Transmit

The schedule the Transmitter transmits (broadcasts) a time signal from a start hour to end hour based on a 24 hour time period.

1 Watt Transmitter with an internal antenna and Repeater Transmitter

By default, set to transmit 24 hours a day (0 to 0).

Transmitter with an external antenna only (specific minute transmit schedule set by the factory)

1, 5, or 30 Watt Transmitters with an external antenna ONLY transmit a time signal between the 39th to the 6th minute for each hour set in its Normal Transmit schedule and changes to a standby mode and does NOT transmit a time signal during the 7th to the 38th minute of each hour. This setting is set by the factory and cannot be changed.

For example, when its Normal Transmit schedule is set to 24 hours, each day at 12:39 AM it starts transmitting and at 1:06 AM it stops transmitting and from 1:07 AM to 1:38 AM it is in standby mode and does not transmit a time signal. Then for each hour it starts to transmit again at the 39th minute of the hour and ends at the 6th minute and from the 7th to the 39th minute of the hour is in standby mode. This sequence will repeat each hour.
Once a Transmitter has connected to OneVue, you can remotely manage its settings from OneVue. Each Transmitter has a unique profile where you can view and manage its settings.
View a Transmitter profile and its settings
Go to Devices > Transmitters > select the Name link of the Transmitter.

To view all settings, select Show Advanced Options.

To view network type settings, select its Gateway link.
Transmitter profile settings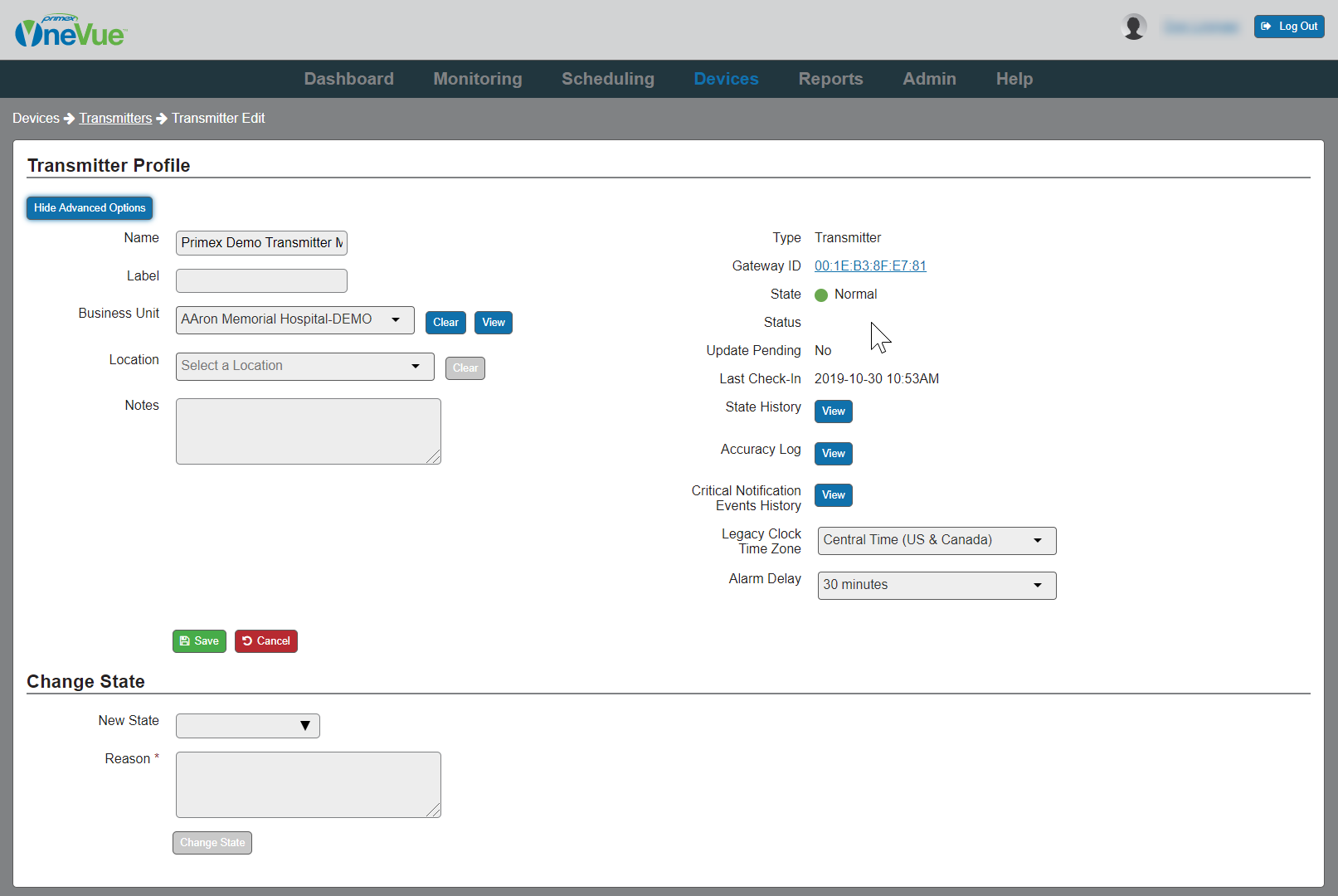 Name: unique name of the device. Commonly set to identify its install location.

Label: for information purposes only. Commonly identifies other unique device detail in addition to its name.

Business Unit: its assigned Business Unit. Business Units control user access by assigning users to the Business Unit they are responsible for. By default, assigned to the account Business Unit.

Location: By default, a device is not assigned to a Location. If your account structure uses Locations to control user access, assign a device to a Location to ensure users have access to the devices they are responsible for.

Legacy Clock Time Zone: Time Zone broadcasted to and received by 72MHz Analog Clocks, Digital Clocks, and Digital Timers.

This setting does not apply to Notify InfoBoards. These device types receive time from either a Transmitter or NTP time source and then synchronize the received UTC time to their assigned Time Zone and apply DST rules.

Alarm Delay: sets the amount of time OneVue delays setting a Transmitter that is in a Warning state to an Alarm state. A Transmitter is set to an Alarm state when it has been in a Warning state for longer than the time period set in its Alarm Delay setting,

By default set to 30 minutes, and can be set to immediate (0) or 1, 2, 8, 16, or 24 hours.

Change State: although OneVue monitors and manages the state of devices, the state change is designed to provide a function that allows a user to manually change the state of a device.
Transmitter gateway profile settings
From a Transmitter profile, selecting the Gateway ID link opens its gateway profile.

Network: its assigned wired Ethernet network. If changing a Non-DCHP static IPv4 address, the update requires a network migration from OneVue or can be updated locally at the device with the ODC app.

Keep Firmware at: Primex devices have internal programming, referred to as firmware that controls how it operates. By default firmware is set to update automatically, which is the method recommended by Primex. It's recommended to work with your Primex support representative when updating to a specific firmware version.

Check-In Interval: how frequent a Transmitter connects to the facility's network to check-in to OneVue. By default set to every 5 minutes, and can be set to 10, 15, 30 or 60 minutes.

During each check-in, a Transmitter connects to its NTP time source to obtain UTC time, sends its current operating status and event data to OneVue, and downloads pending settings updates. When a Transmitter reports a status that is not within its normal operating condition, OneVue sets the Transmitter to a Warning state. When it remains in a Warning state for longer than the time period set in its Alarm Delay, it is then set to an Alarm state.

Unresponsive Timeout: the maximum amount of time a Primex device can go without a check-in to OneVue.

When the Transmitter has exceeded the number of missed check-ins, it is set to a Warning state. When it remains in a Warning state for longer than its Alarm Delay setting, it is set to an Alarm state. By default, set to 3 consecutive check-ins, and can be set to 1,2, 3, 4, 5, or 10 missed check-ins.

NTP Servers: a Transmitter can either use NTP as its primary or as a backup time source. By default, a Transmitter connects to the NTP Servers set in the account profile.
From your OneVue account profile, you can manage the default Time Zone and NTP Servers for Transmitters. Also, from the account profile you can customize the OneVue Notify Critical Notification Presets (subscription required).
View account profile settings
Go to Admin > select Edit (your OneVue account name).

Your account profile is displayed.
Account profile settings
Time Synchronization

The account Time Zone is time zone OneVue uses for reports, scheduled events, alert scheduling, and the default time zone of OneVue Sync and Notify devices. All other system data is displayed in the time zone of your computer or mobile device. Optionally, a specific time zone can be assigned to a device from its profile.

The account NTP Servers are the default NTP severs for Primex network devices configured to receive time from a NTP time source. Optionally, specific NTP Servers can be configured from the profile of a device.

Critical Notification Presets (only applies to the OneVue Notify with Critical Notifications subscription solution)

The critical notification preset settings allow customization to the five critical notification events displayed on InfoBoards. Customization requires assistance from Primex and must be planned and tested.