The Transmitter connections are located on its back panel.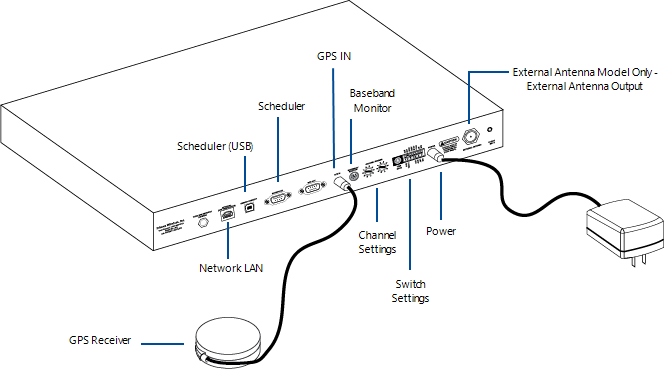 The supplied antenna is attached onto the top case of the Transmitter. To attach, screw the antenna clockwise, being careful to avoid cross-threading the antenna. The antenna must be snug and flat against the case.
LMR 400 cable connected to the Transmitter "External Antenna" port, located on the rear of the Transmitter.
The system can be configured to use GPS or NTP time.
GPS: plug the supplied GPS cable into the Transmitter "GPS IN" connection.

NTP time: connect a network cable to the Ethernet port/Network LAN connection and configure the Transmitter to use NTP time.
| Connection | Type | Description |
| --- | --- | --- |
| Network LAN | RJ-45 Ethernet | NTP time source |
| Scheduler USB (Server Connect) | USB Type B | Scheduler connection |
| Scheduler | Serial RS232 DB9, male | Scheduler connection |
| GPS IN | MiniDIN 7-Pin | GPS Receiver connection |
| Baseband Monitor | MiniDIN 9-Pin | Amplifier diagnostic connection. For use with 5 or 30 Watt Transmitter only. |
| Power | 9V DC power | AC power connection |
| External Antenna - for use with external antenna models only. | Coaxial | External antenna connection. |