Power over Ethernet (PoE)

PoE.IEEE 802.3af Compliant

Maximum power consumption: 12.9 Watts (Class 3)

AC power supply

(optional accessory)

120 VAC (100-240)/ 50–60 cycle, 10 ft. (3.0 m) cord with two-prong plug, UL/cUL listed

Enclosure

Enclosure: ABS plastic

Junction box: UL listed (UL 50E 1st Ed; listing number E469550)

Operation

12 or 24-hour time display

PM indicator light

Alternating time and date display option

LED digit dimmer option (100%, 75%, 50%, 25%)

Automatically adjusts for Daylight Saving Time (DST)

If power is interrupted, the clock stops until power resumes. Upon resumption of power, the clock self-corrects to the current time. Retains time in memory for up to one hour.

Environment

Operating temperature: 32° to 95° F (0° to 35° C)

Storage temperature range: -4° to 158° F (-20° to 70° C)

Certifications

FCC, CE, and IC compliant
The backside of a Levo Digital Clock/Timer houses the mounting, power, connection inputs, and setting panel.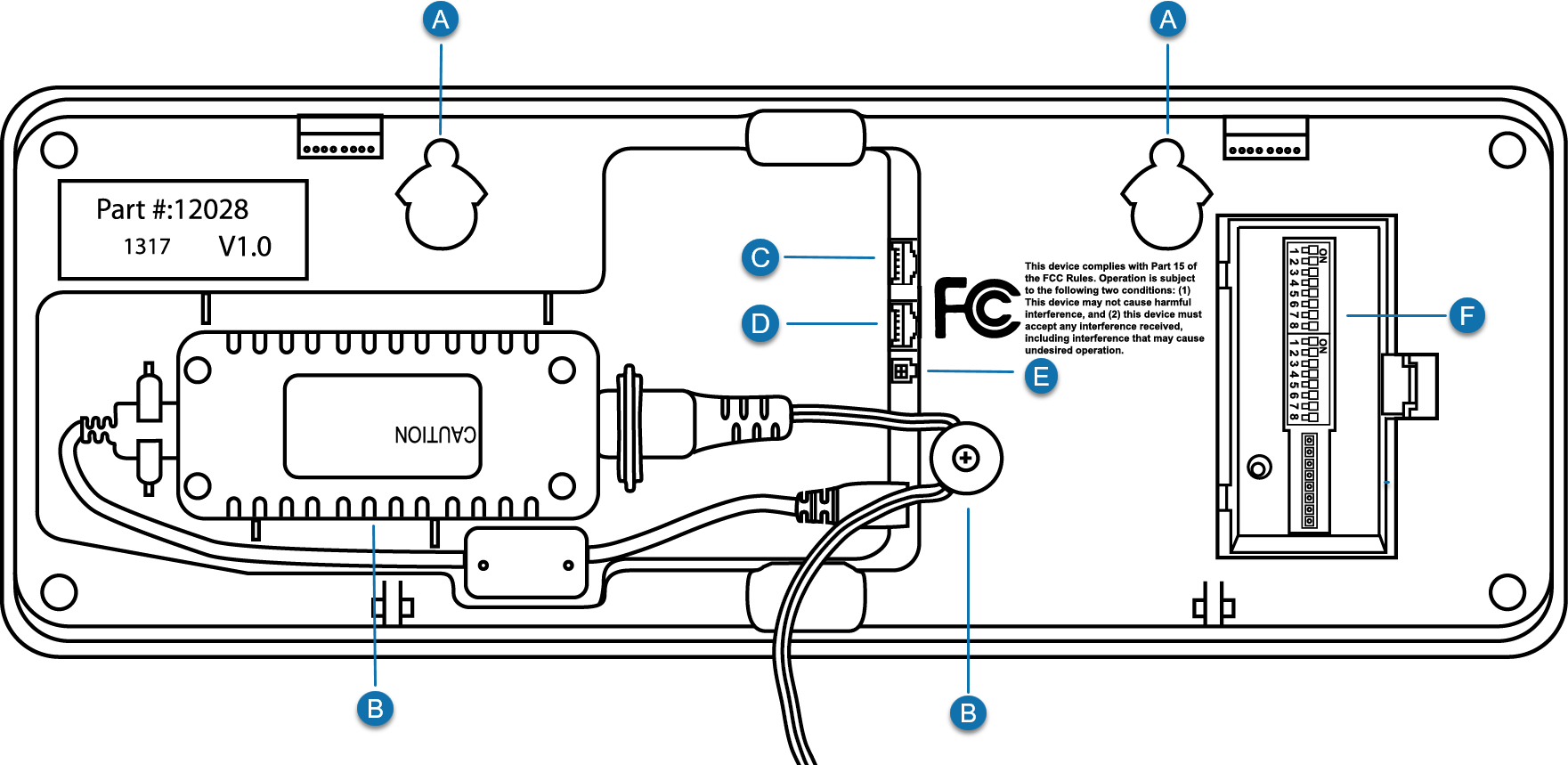 Key-Hole Mount (2)

AC power supply and power cord with 2-prong plug (AC model). Power cord strain relief assembly with supplied washer and screw.

RJ45 port (PoE model)

RJ11 port (elapsed timer and code blue timer model): connection to supplied Timer Control Switch

4 pin port (code blue timer model): connection to supplied 4 pin 30 in. (76.2 cm) connector

Setting panel (options vary by model): Mini-USB port, manual dimmer display button, Reset (check-in) button