Each Bell Controller has two relays and each relay has its own profile. From a relay profile, you can update its assigned Bell Schedule and Business Unit, and manually change its state. Also, a bell controller has a gateway profile that includes its network, firmware, and impromptu bell settings.
Device Preconfiguration (new order only)

Device Preconfiguration automates the configuration of Primex network devices for use with your OneVue account before they arrive at your facility - eliminating the need to manually configure a device onsite. Device Preconfiguration is completed online from your OneVue account. Once completed, Primex configures the devices with your OneVue account ID and settings provided during preconfiguration, and labels each device. It's an online process that allows devices to be ready for use when they arrive at your facility.

OWDC app (new order and post-install)

The OneVue Wired Device Configurator (OWDC) Android™ app provides the experience of adding Primex network devices to OneVue. Use of the OWDC app is an alternative method to Device Preconfiguration. Once you download the app from Google Play™ store (it's free!), you connect a Primex network device to your Android device and the app guides you through adding the device to OneVue.

For post-install use, OWDC is commonly used during troubleshooting to update a Bell Controller's network settings.

Bell Controller Relay profile (post-install)

From the profile of a Bell Controller Relay, you can view its settings and historical data. You can view or change its assigned Bell Schedule, view its state and event history, and change the state of the relay.

From a relay profile, selecting its Gateway ID link opens the gateway profile of the Bell Controller.
Assigned Bell Schedule

A Bell Schedule defines when bells ring and are made up of default and exception schedules. Once a schedule is created, it can then be assigned to a bell controller relay.

Assigned Business Unit or Location

If your account is set up to manage user access by Business Unit or Location, you may need to assign a Bell Controller Relay to its applicable business unit or location. By default, a relay is assigned to the account business unit and is not assigned to a location.

Manually change its current state

A state change allows a user assigned to an Admin Role to change the state of a relay. Although OneVue monitors and manages the state of a relay, this feature is designed to provide a function that allows a user to change the state of a sensor.

A state change is commonly only performed during testing, a planned outage, or when a relay is not in use.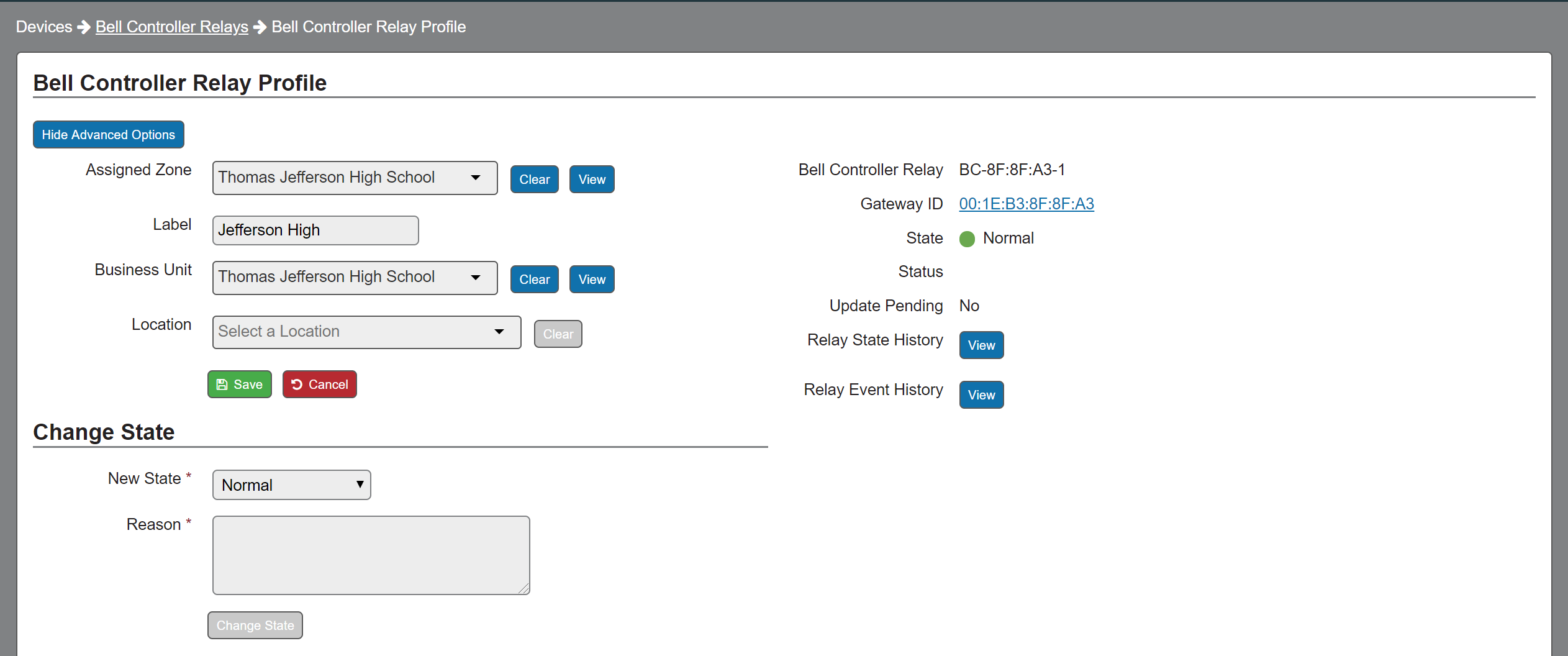 A gateway in OneVue represents the network component of a Bell Controller. From a bell controller relay profile, selecting its Gateway ID link opens its gateway. Its Check-in Interval and Unresponsive timeout is set by OneVue and cannot be changed.
Assigned Primary and Alternate Network

During its check-in sequence to OneVue, the device attempts to connect to this network first. If the connection fails, the device automatically attempts to connect to its alternate network.

The alternate network serves as a backup network. When a device cannot connect to its primary network, it automatically attempts to connect to its alternate network.

NTP Servers (bell controller time source)

By default, set to the account NTP servers. If needed, a bell controller can be set to specific NTP servers from its gateway profile.

Firmware

By default, firmware is set to update automatically, which is the method recommended by Primex. Primex may release a firmware update that is either required to be applied or is an optional update. When firmware is set to Latest, a device automatically downloads firmware updates released by Primex.

Impromptu Bell Pattern

The Bell Controller dry contact closure inputs can be connected to a standalone switch or button to activate a bell manually, commonly referred to as an impromptu bell. An impromptu bell is a bell ring event that is not scheduled in OneVue.

Check-in Interval (hourly) and Unresponsive Timeout (three days)

These two settings are set by OneVue and cannot be changed.

Check-in interval is how often the bell controller connects to the network to send data to and download schedule updates from OneVue. The Unresponsive Timeout is how long a bell controller can go without a check-in to OneVue, and when this time period has been exceeded the bell controller is set to an Alarm state.